Unforgettable bivouac in contact with nature
Do you have the soul of a trapper… an adventurer?
PLEASE NOTE: The "bivouac" services are an accessory to a canoe formula. Following various abuses, "event" rentals, excluding the main canoe service, are no longer possible. We no longer rent camps as a single service.
Our dedicated accommodation areas welcome you to pleasantly extend your canoe trip .
Bivouacs can only be considered in our Indian camps.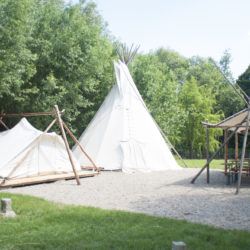 Indian camp
Adventure, great comfort and more! Overnight stay in an Indian tepee, Canadian tent with mattress, click-clacks…
The nights are in nature orientations, the organization of musical festivals is no longer possible in our Indian camps.
Equipment to enhance your lodgings
Indian camp formula: we put equipment at your service , such as: tables, benches, wood barbecue for the fire… The sleeping bag, plaid and crockery are not provided.